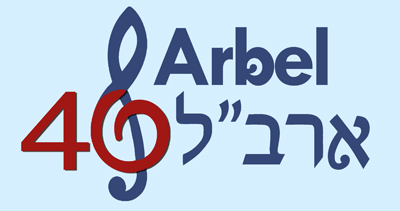 Robert A.M. Ross

Arbel Director Robert Ross was born February 3, 1955 in Philadelphia. He is a graduate of Temple University, where he studied voice with Phillip Cho and George McKinley, organ with Earl Ness, and conducting with Gail Poch. After a year of public school teaching and three years in the graphic arts industry, Mr. Ross returned to Temple to pursue Master's degrees in choral conducting under Alan Harler and composition under Maurice Wright; completing both degrees in 1983.

He has served as Artistic and Music Director of Voces Novae et Antiquae, of the Yavneh Ensemble (a combination professional & amateur choir devoted to Jewish music founded in 2006), and choirmaster and bass soloist at Congregation Adath Jeshurun in Elkins Park. He has taught at Temple University, and now serves on the full-time music faculty of Community College of Philadelphia where he teaches music history and theory courses, directs the CCP Vocal Ensembles, and, as of May, 2008, serves as chair of the music department. Prior positions include Interim Director of Choral Activities at Franklin & Marshall College in the spring of 1998, and Music Director of the Mak'helat Beth Sholom (Singers of Beth Sholom) at Temple Beth Sholom in Cherry Hill, NJ.
Mr. Ross is extremely active in the Philadelphia area music scene. As a conductor, he has appeared with Pennsylvania Pro Musica, Philadelphia Chamber Chorus, Mount Saint Joseph Academy, Rosemont College, Temple University Concert Choir and Chamber Singers, Symphony Club Orchestra of Philadelphia, Orchestra Society of Philadelphia, and chamber orchestras in the area. He has appeared at numerous area churches and synagogues as both chorister and soloist, including cantorial soloist with the Delaware Valley Chorale in Ernest Bloch's Avodath Hakodesh (Sacred Service) in May of 2005, and bass soloist and chorus master for Beethoven's Ninth Symphony in January, 2006 with the Orchestra Society of Philadelphia conducted by André Raphael Smith.

His compositional catalog numbers well over two hundred works, including many choral works, three cantatas, two symphonies, several instrumental chamber works, and experimental pieces as well as many arrangements and editions. He has a growing number of works in print from Coronet Press, Theodore Presser Company, Thomas House and Psalm 150 Publications, Laurendale Associates, and, most recently, Oxford University Press and Bärenreiter-Verlag. His works have been recorded on the Premier label by the Gregg Smith Singers and the Arkay label by Voces Novae et Antiquae as well as by various ensembles on private labels.

Mr. Ross' honors include composition prizes from the Stowe Institute (Stowe, VT), the Musical Fund Society of Philadelphia, Phi Mu Alpha Sinfonia/James Madison University, and the former Pro-Arte Chorale of Wayne, PA. Mr. Ross has been a recipient of Meet the Composer grants between 1993 and 1997 at the Adirondack Festival of American Music, where he also served as General Manager of the Festival and performed with and conducted the Gregg Smith Singers. He served as Production Editor and engraver for the Centennial Songbook of Phi Mu Alpha Sinfonia Fraternity, which includes three of Mr. Ross' original part-songs and eight arrangements for mens' voices, and most recently, music editor and engraver for the fraternity's ritual book.

In the summer of 1998, he was awarded a commission by the Radnor Township Educational Association for a new work for chorus and orchestra for the dedication of their new theater and performing arts complex. The work, Of Arts and Elements, received its world premiere June 3, 1999 in performance by the Radnor High School Meistersingers and Orchestra under Mr. Ross' direction. In 2000 he had a piece recorded in Europe for the first time: his early madrigal My Mistress' Eyes (on the famous sonnet of Shakespeare) was recorded by the Choir Cantinovum of the Jyväskylä Polytechnic Institute of Jyväskylä, Finland on a CD of new music by otherwise Finnish composers. Choir Cantinovum commissioned a setting of Psalm 51 in Hebrew for chorus and string orchestra which premiered March 29, 2002. During the same period, he was awarded a commission from the Adath Jeshurun Choral Society (Congregation Adath Jeshurun, Elkins Park, PA) for Hear, O Heavens, a cantata on texts from Isaiah which was premiered by Voces Novae et Antiquae on June 19, 2002.